Whirling and steaming under the sky – Aqua Euforica
Immerse in refreshing, sparkling water and enjoy positive energy all around.
Stars shining above your head and a glass of sparkling wine in your hand. Wholesome bath in the bubble mineralized water connected with floating, warmness and massage is marvelously rejuvenating. The human body is one-tenth ins weight in the bath, presenting one's muscles and tendons the ability to completely relax. The warmth of the water and the massage stimulate your bloodstream, bringing more oxygen and nutrients to your body, allowing deep relaxation and a rejuvenation of your tired muscles to take place. Nozzles are expertly located to massage the most strained parts of your body. You have the ability to control the intensity of the jets, making your experience as pleasant as possible. Six different massage programs are available. The bath is further amplified by the unique composition of the water that comes from Svata Katerina's spring. This deep alkaline mineral spring has been used in spa treatments for centuries to produce this unique skin regeneration effect. Furthermore, you will have a deeper and more relaxed sleep after this hydro-massage. You can also try out the warming room on the terrace - a tropical bath!
Pricelist Aqua Euforica
Whirling and steaming under the sky
Pricelist jacuzzi - individual
Martinique 
Tahitian
890 CZK/ 60'
1.190 CZK/ 90'
Geneva 
990 CZK/ 60'
1.390 CZK/ 90'
Cantabria
1.190 CZK/ 60
1.690 CZK/ 90'
Pricelist jacuzzi - combinations of tubs
Martinique and Geneva
1.580 CZK/ 60'
2.180 CZK/ 90'
Geneva and Tahitian
1.880 CZK/ 60'
2.580 CZK/ 90'
Tahitian and Cantabria
2.080 CZK/ 60'
2.880 CZK/ 90'
Martinique and Geneva a Tahitian
2.470 CZK/ 60'
3.370 CZK/ 90'
Geneva a Tahitian and Cantabria
3.070 CZK/ 60'
4.270 CZK/ 90'
Renting all Jacuzzi together
Martinique, Tahitan, Geneva and Cantabria
3.660 CZK/ 60'
5.060 CZK/ 90'
SPA THERAPIES in Svatá Kateřina
Free access to wellness (spa therapies)
2 hours: 230 Kč
Day ticket: 470 Kč 
children 2 - 10 years for 2 hours: 150 Kč
The acces to wellness includes:
Spa, sauna, steam room and relaxation room
The acces to wellness doesn´ t includes:
Jacuzzi under the sky and Rasulbath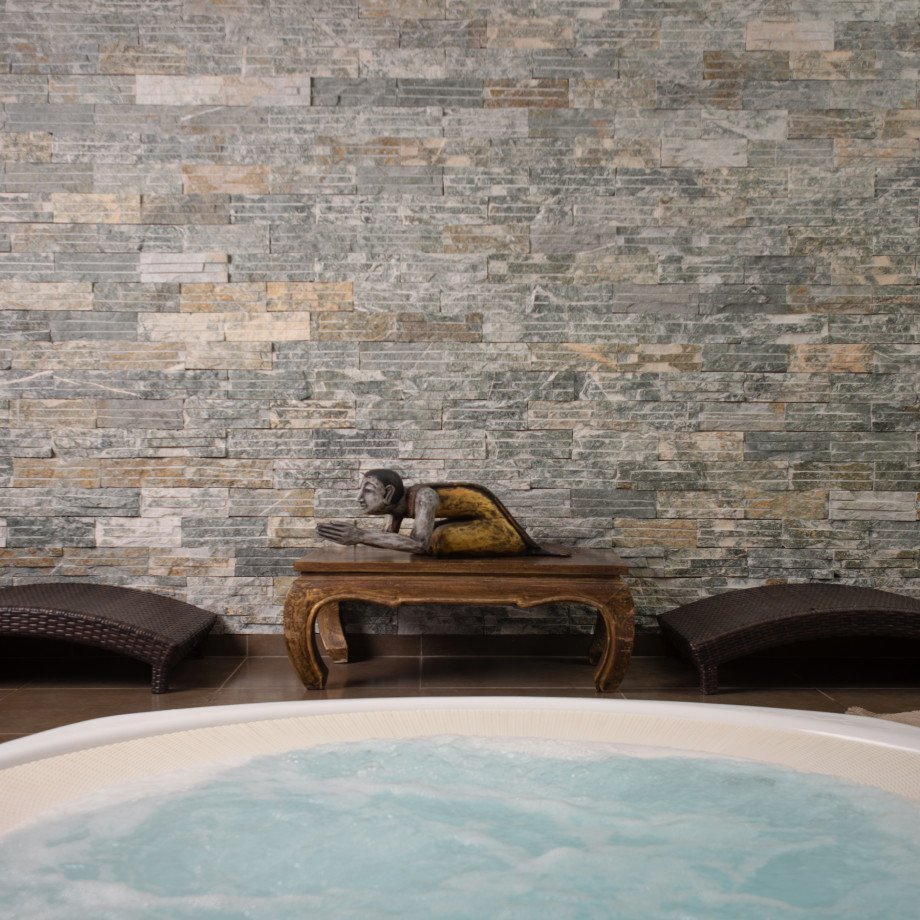 Sauna
Genuine wellness programs!
The sauna is based on alternating heat and cold. The temperature in the sauna reaches 90°Celsius. It is good to increase the blood flow in the sauna by rubbing the skin. The sauna increases the resistance and immunity of the human body mainly in the winter by better protecting against disease. It also acts beneficially to release muscle tension, assists in the treatment of stress and relieves overall exhaustion. A stay in the sauna also has a positive effect on the skin and mucous membranes. Many people can improve their dermatological problems. Finally, in the sauna the human body becomes hardened and gets rid of toxic substances. It is not advisable to go to the sauna with a full stomach, if you're too hungry, or immediately after considerable physical exertion. If you have health problems, contact the staff at the Wellness reception.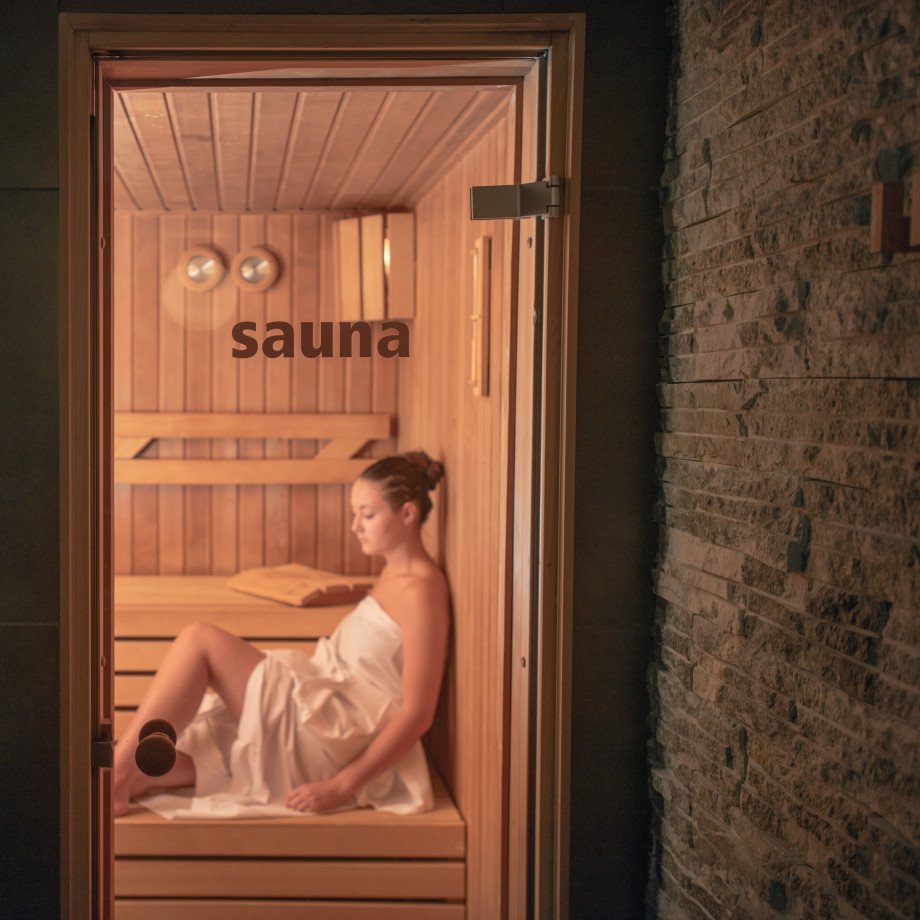 AROMATIC SAUNA
Choose from a wide range of aromatic essences:
inducing relaxation:
bergamot, rosewood, cedar, ylang-ylang, geranium bourbon, lavender, sweet orange

bringing relief of breathing problems:
eucalyptus globulus, eucalyptus radiata

awakening vitality:
peppermint, grapefruit, pine, rosemary
increasing harmony:
lemon, citronella, cypress, lavandin, red tangerine, tea tree, patchouli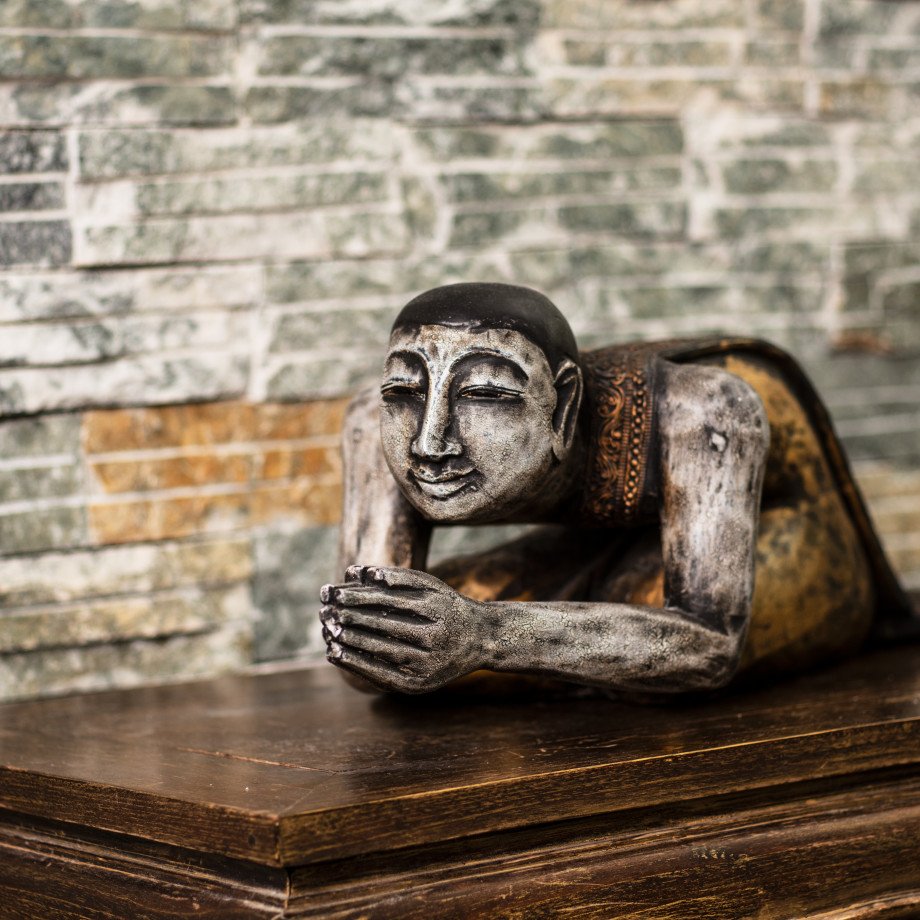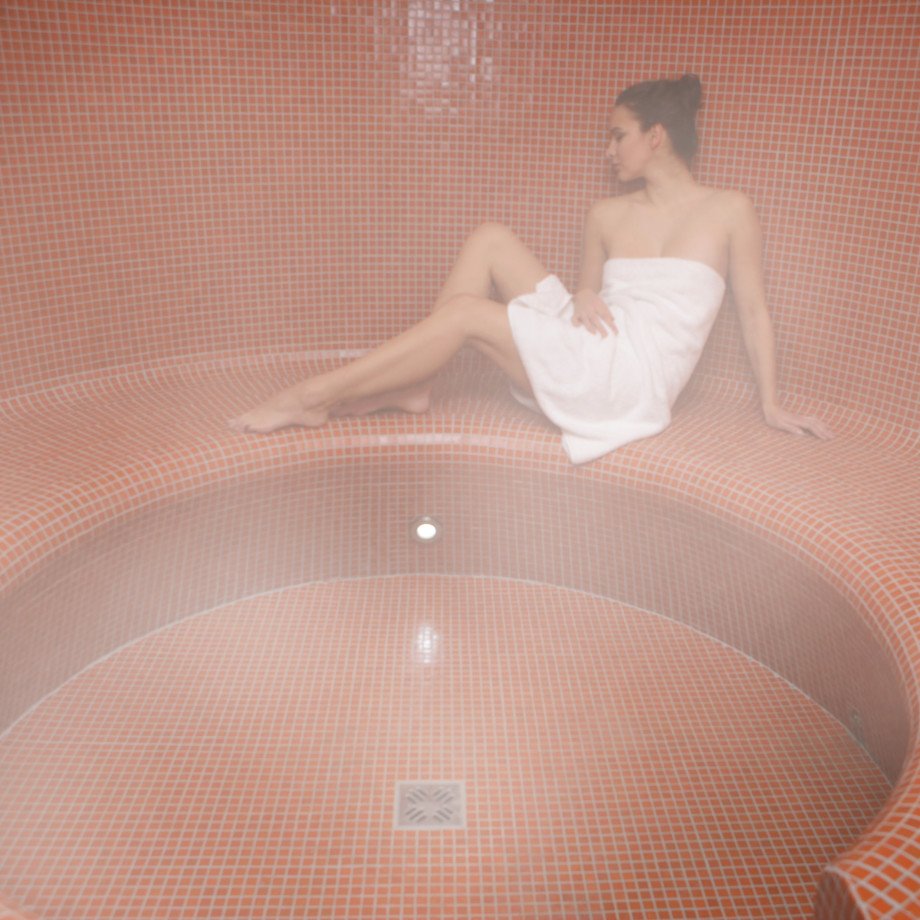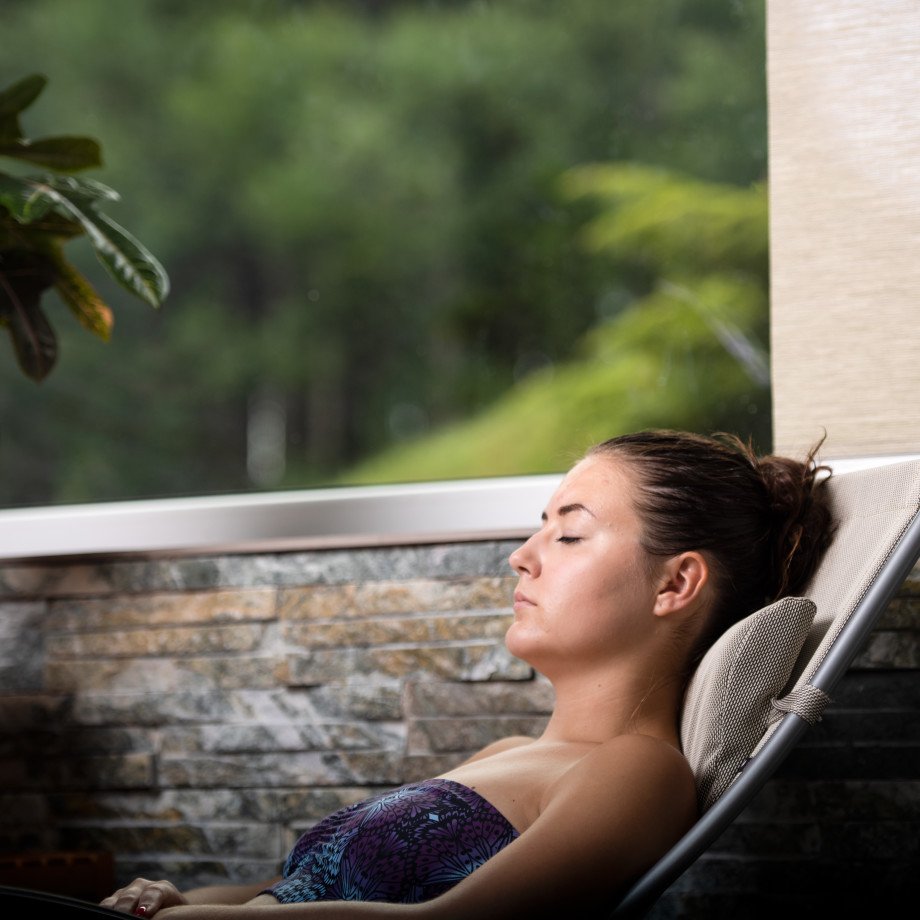 Steam aromatic bath or steam salt bath
Steam aromatic bath provides wide range of aromatic essences of essential oils. Steam salt bath takes advantage of the beneficial effects of the water and salt of St. Kateřina.
If you have health problems, contact the staff at the Wellness reception.
STEAM BATH
Steam baths are a hot bath (40-55 ° C) with high humidity (up to 100%). This unique climate has a positive influence on the human organism. The main difference between the climate in the sauna and steam bath lies in the humidity. The warming-through affects the organism positively. Steam baths help treat asthma, respiratory diseases, rheumatism, hoarseness, muscle disease and blood circulation disorders. The warming-through of the organism leads to activation of the detoxification processes and fat burning, so that steam baths also support weight loss. Steam inhalation is an excellent medicinal agent with healing the cold, bronchitis, larynx, sinus inflammation, bronchitis and pneumonia. Inhalation of steam opens the skin's pores. Pollutants from the skin are washed out as herbs actively regenerate the skin. Unlike the climate in the sauna, the steam bath is a damp warm bath. It is not advisable to go to the sauna with a full stomach, if you're too hungry or immediately after considerable physical exertion.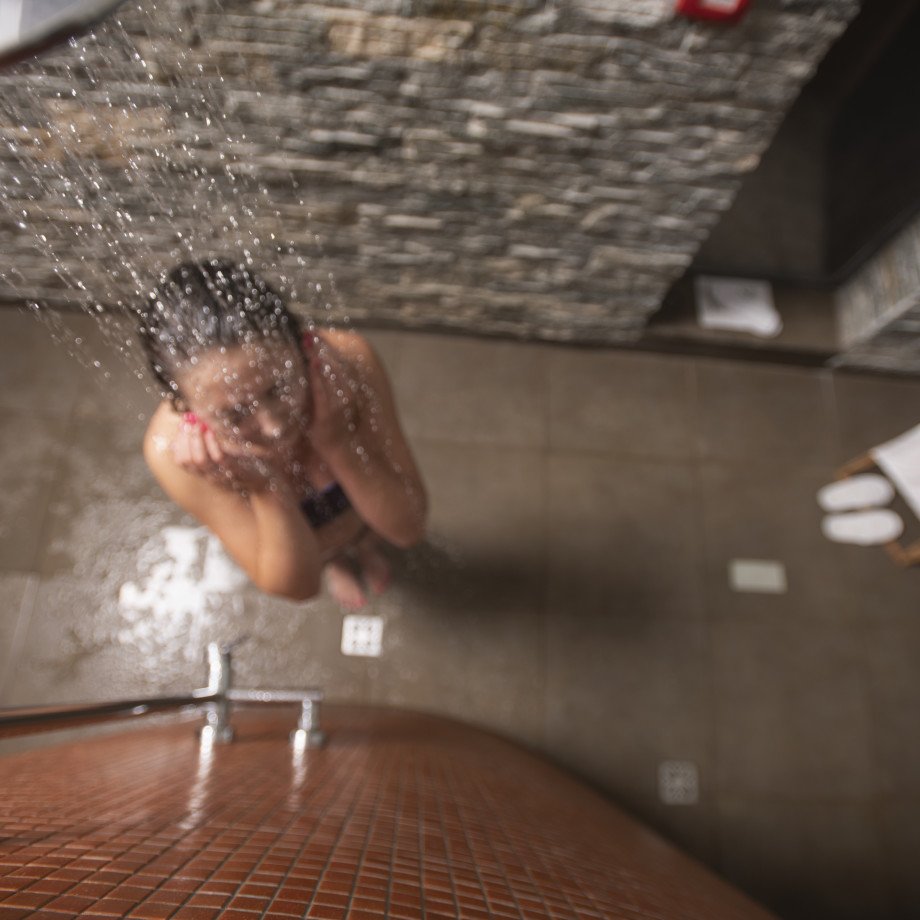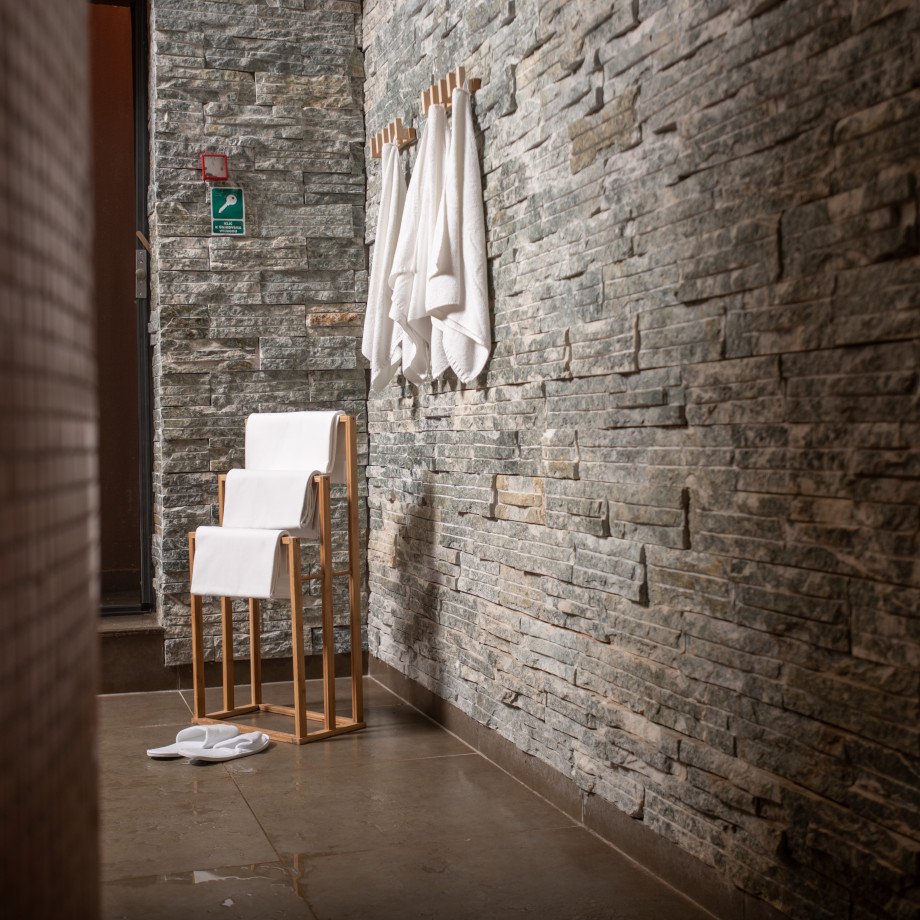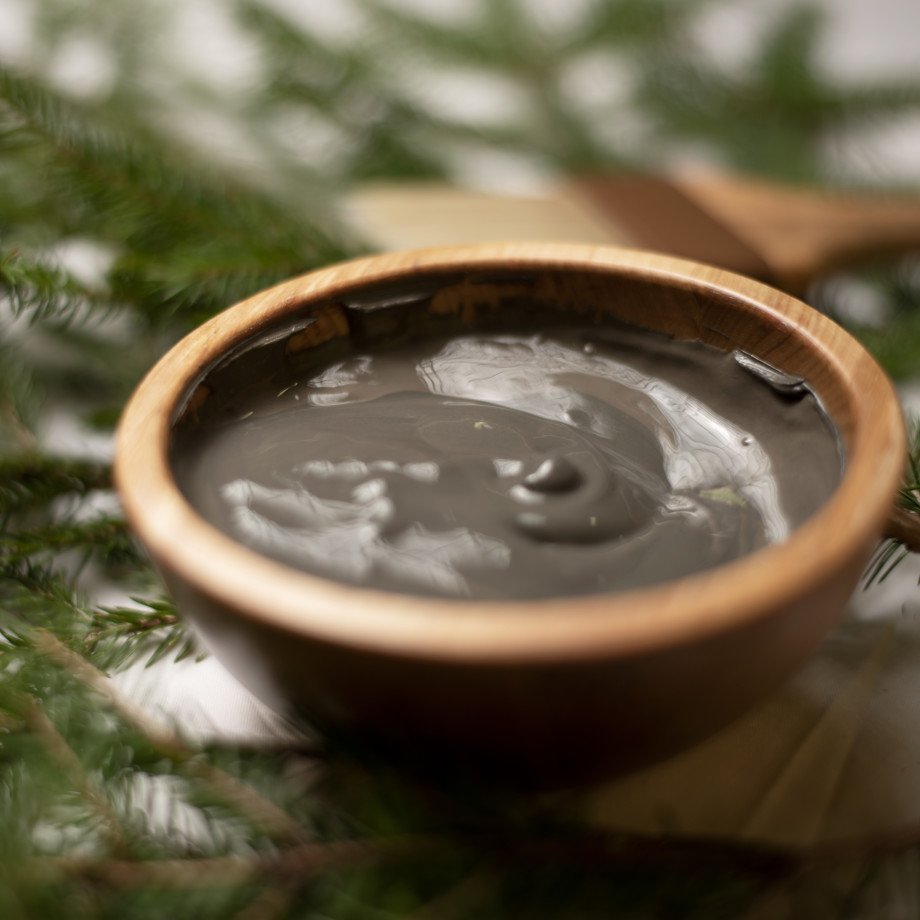 RASULBATH - skin regeneration 
The connection of oils from coconuts, macadamia nuts and Dilo nuts is rich on high proportion of unsaturated fatty acids and vitamins, especially on vitamin E. The oils soften the skin and protect it against undesirable external effects, dehydration and signs of ageing. This treatment is recommended by problems with eczema
RASULBATH - honey pleasure
This treatment helps to firm problematic areas of the body. Special honey-milk mask is applicated to your skin for 20 minutes in the warm steam bath. At the end, your skin in treated with honey body butter, which intensifies the treatment effect. This procedure is not suitable for high outdoor temperatures for those, who suffers from problems with blood pressure or heart problems.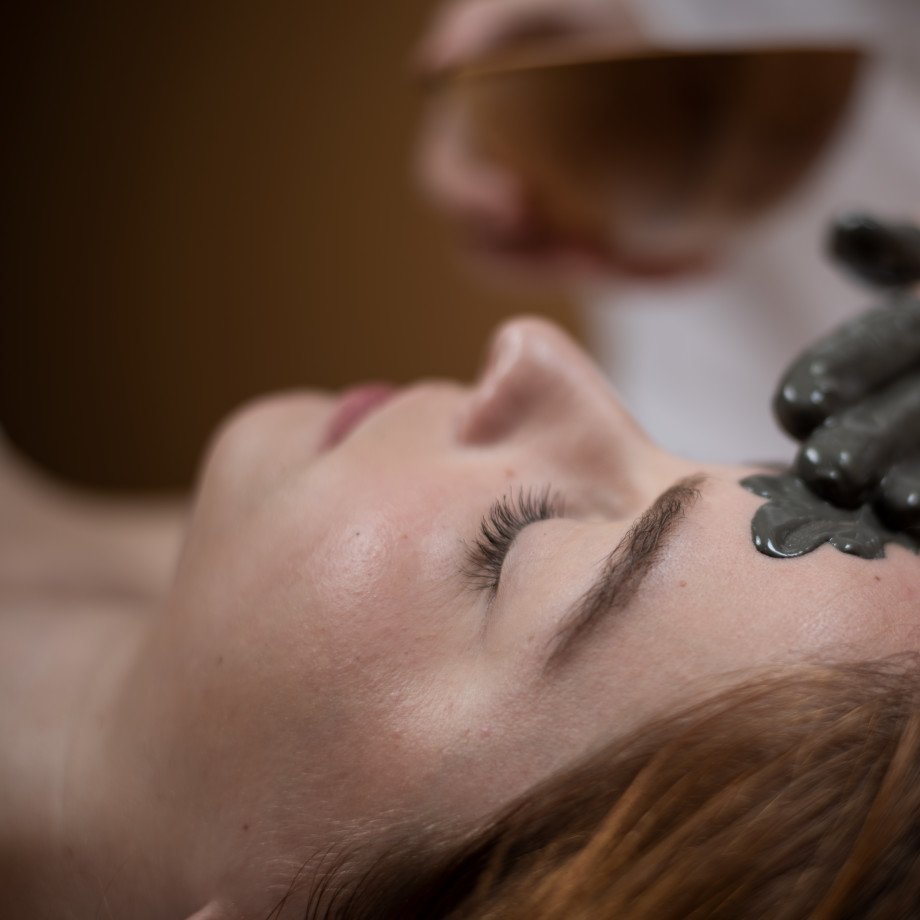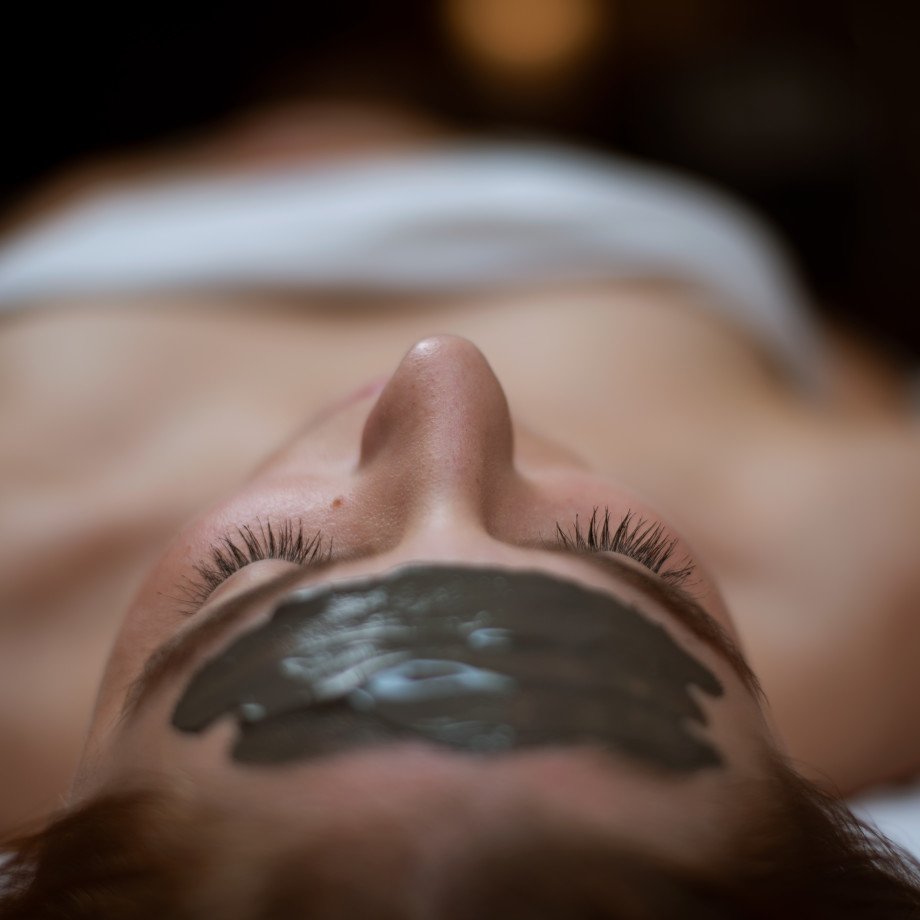 RASULBATH - ginger (detoxication)
Ginger intensively cleans our body and in connection with coconut oil hydrates and brightens your skin. Coconut oil with ginger is full of vitamins and antioxidants, brings the skin necessary nutrients, lightly tones and has antiaging effect.